After Eden: The Monastery of the Birth of the Virgin Mary, Zourvas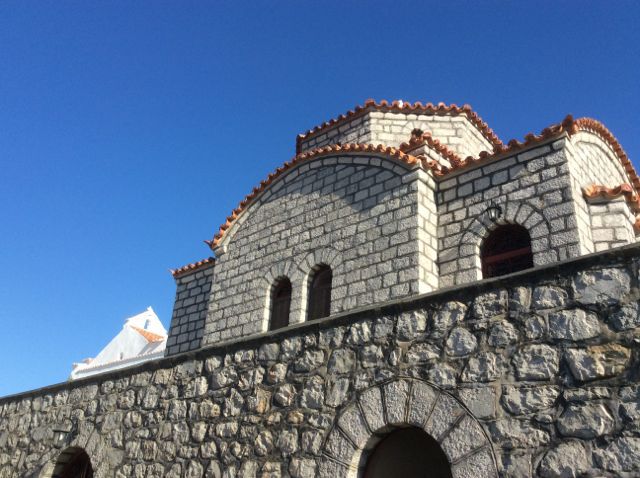 This is an updated version of a diary entry I wrote in Greece, during the Autumn of 2016 after leaving Eden. 
I've been here on Hydra for a few days now, mostly lazy days if I'm honest. It all started with good intentions as I mixed with the locals and made friends, but eventually, I started to take the time for myself rather than go out. I'm lucky to be staying with my partner's family as they are out working all day and have a beautiful patio area to relax in, drinking coffees, eating omelettes and smoking far too many cigarettes.
In spite of telling myself that it wouldn't happen, I've been recognised. As I walked along past all the cafes and bars that fill the port I made eye contact with a young lady in a group of a dozen people in their early twenties, who turned to her friend and said: "Look, it's Anton!" I averted my gaze casually and as I walked by I could hear them talking: "It can't be him he's in Scotland" and "he just has the same face" and "he's way too good looking" (that last one isn't true, sadly). This interaction was enough to knock me off balance and so I then decided to avoid the tourist areas completely.
The next day I went for a walk, more than just a walk to be fair, it was a hike across the island to a monastery with links to my partner's family. I walked in the sun along mule paths and faint tracks, I felt a strange determination in my walk as I powered up the hills and across the rocks and boulders that seemed to be blocking every route around me. As I drew near I sat in the shade of one of the few trees that are on the north side of this beautiful place and ate a sandwich surrounded by sheep. Three hours later I arrived at my destination dripping with sweat from both the exertion and the sweltering sun that had sapped my energy. I let myself into the grounds through the steel gate and walked up to the buildings in front of me, when there I found that I was alone, with no sign of anyone else and each building safe behind other gates. Sitting in the shade of a building I drank water and contemplated the walk back; this was a ghost town that I felt nervous about entering any further.
Suddenly an elderly nun appeared at a gate near me, "Adonis" she asked? She spoke to me in Greek but I could clearly hear my name, my Greek name, I stood and approached her as she opened the gate welcoming me inside. I was scared, to be honest, how did she know who I was? I followed behind as she showed me into a small kitchen area inside a beautiful courtyard, another nun and a family with a young child. My partner's family had called ahead and told them of my arrival. Mystery solved! We sat and talked, I was given water and my favourite of all the Greek liqueurs—mastica. The nuns explained that my partner has family links to the monastery and that a number of her ancestors had lived there. In the afternoon I was given a room to rest, and so I slept with instructions to join them for coffee later prior to my departure before sunset (this instruction had been made clear as having lone males at the monastery would, understandably, be inappropriate).
At coffee, we all sat in the courtyard and I enjoyed the calm and peace as we spoke of the beauty of the area and island. A second man had arrived who visited twice a week to bring provisions to the nuns and to help with chores. He travelled there by leading his horse along the track that I had walked to get there, although even the thought of doing that again made me tired but to do it week in, week out in all weather was crazy. I gratefully took the offer of a boat ride back to port with the family and after coffee, we said our goodbyes and I was given a beautifully decorated rock as a gift.
As we pulled away from the dock and cliffs that towered over us I realised that the nuns, although living in a paradise, really were cut off from the world, isolated in their faith by strenuous routes and dependent on the support of the island community. Yet they were also happy and I wondered about the fate of the monastery in a world where religion seems to be less important than ever before, then I remember that I am in Greece, religion is everything here, with even the secular showing respect to the church and the priests that walk the streets just like everyone else, drinking in bars and enjoying souvlaki in restaurants, both filling the role of community leader AND community member at the same time.